Cheap White Kitchen Cabinets Toronto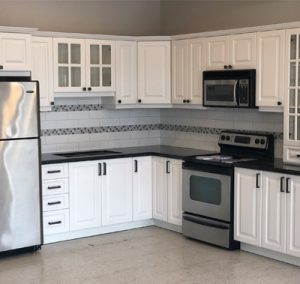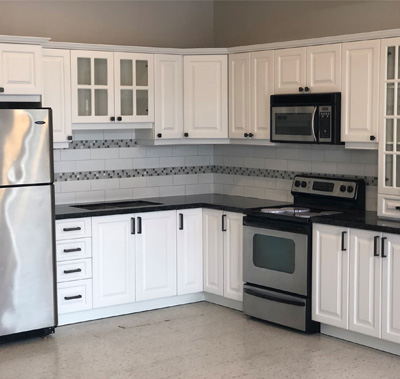 If you're looking to replace your kitchen cabinets, you've come to the right place! Discount Kitchens offers a large selection of premium cabinets without the hefty price tag. We work to make quality kitchens affordable for everyone.
White Kitchen Cabinets
A popular choice from many of our customers is white cabinetry! We have many different cabinet designs and each of them looks great in white. What are some features that look great with white cabinets? Let's look!
Glass door panels look fantastic in white cabinetry. The bright cabinets make a fantastic frame for the cabinet's contents. This is doubly true if your dishes are white as well. The white cabinet doors will really bring out the shine in your nice dishes.
High gloss cabinets look wonderful no matter the color, but white will really shine! Glossy, white cabinetry will give your kitchen such a clean and spotless aesthetic. The glossy surfaces are easy to wipe down and will catch the light just right.
Stainless steel hardware looks stunning with white cabinets! Whether you choose knobs or handles, you can't go wrong with buying them in a brushed metal. These will look even better if you already have stainless steel appliances in your kitchen. They'll work as an accent color and tie in the stainless steel with the rest of the kitchen!.
Our Cabinets Are Quality
Not only do we offer white cabinets that look great, they also function great. Just because we sell our cabinets for low prices doesn't mean we cut corners.
Our cabinets are 100% Canadian made and are assembled using more than just staples. We want our cabinets to last and it shows. When put together, each piece of our cabinets is connected using grooves in the wood, glue, and screws. This ensures our cabinets are long-lasting!
White cabinets have a penchant for getting discolored after years of use. Because our cabinets are all wrapped in thermal foil, not even the white ones will change color or fade.
Buy the White Cabinets of Your Dreams Today
If you'd like to talk with some of our expert staff about what we offer, give us a call or email today. If you'd rather come to our showroom and take a look around first, please do! Seeing pictures is one thing, but we're sure once you see our sleek, white cabinets in person, you'll be sold on them. While you're here, you can get answers to your questions face to face with our employees.
CONTACT US

We embarked on a whole home reno in June and one of the first things we did was to order our cabinets for two separate kitchens. Delivery was to be scheduled out several months. Measurements were done by me even before demolition. Adam provided a rendering of the kitchens and a detailed measurement that was easy for me to follow. When the installation day final arrived, the cabinets were ready and I experienced no ugly mistakes. The cabinets are great value and look great. Adam, Connie and all the staff were terrific. We looked long and wide at the many suppliers and we are very happy to have purchased from Discount Kitchen. I'd say that you can feel confident that you will be happy with them as well.

Steve Giovanelli


February 16, 2021