Cheap Shaker Kitchen Cabinets Toronto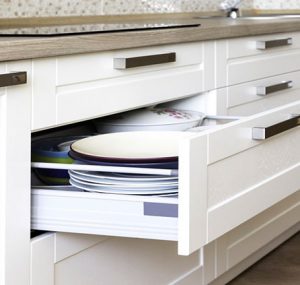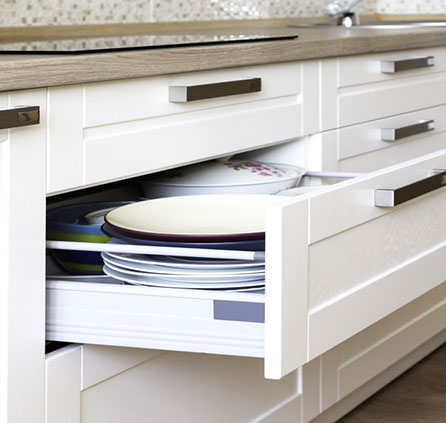 Are you looking to remodel your kitchen or replace those outdated cabinets that have been an eyesore for years? Discount Kitchens is exactly what you're looking for! We specialize in cabinetry and have a large variety of styles and designs to suit each customer's unique needs.
One of our most high-demand products is our shaker cabinets. Shaker cabinets are very popular and, even if you don't recognize them by name, you would recognize them by appearance. 'Shaker' is the name of those cabinets whose doors have a sunken in panel at their center.
They Come in A Variety of Styles
While shakers are a timeless design, they have evolved to suit more modern kitchens. While you can still order them in classic, wood-grain styles, there are many new styles as well. Let's take a look at some of them and how they would benefit different kitchen aesthetics!
Matte black, shaker cabinets with more narrow frames would go very well in a kitchen that's being updated but should still maintain its more cozy appearance. The large panel in the middle of each cabinet door gives the cabinets some variance. Having every door looking flat so that your cabinets are all level with each other looks great if you want sleek. Sleek isn't what everyone is looking for in a kitchen though. That's why matte black shakers are our first choice for a kitchen looking to update but keep its comfortable aesthetic.
High gloss, white, shaker cabinets are fantastic if you want your kitchen's style to be a marriage between sleek and country. Some of our shaker cabinets come with a more boxy type of door frame. The parts of the door that surround its sunken panel aren't curved like some older shaker styles. Pairing this boxier design with a white, high gloss finish is great in a modern, country kitchen. Plus, white really opens up the kitchen space and gives it a bright, clean feeling. The modern design will ensure your house feels like it belongs in this century.
Wood grain shaker cabinets look dignified and classic. While wood grain isn't exactly sleek, it is timeless. You can't go wrong with a lovely wood grain for your kitchen cabinets. Whether that's a light wood that contrasts with darker decor or a dark wood that makes your kitchen look and feel more regal, wood grain always looks great. For a really refined kitchen design, try getting some of your shakers with glass panels in them. They make shelving feel more accessible and can show off well-kept dishes.
Contact
No matter which style you prefer, it all starts with a call or email to Discount Kitchens. Contact us here and get your kitchen looking as beautiful as you always dreamed it would!
CONTACT US
We cannot say enough about the service we received from discount kitchens. As we were on a tight budget and with Adam's help (he has the patience of a saint) we have a new kitchen we always wanted. We could not believe that we could get a kitchen we wanted at an affordable price. With no hesitation we would recommend discount kitchens to our family and friends.

Sue Mottra


May 4, 2019