Cheap High Gloss Kitchen Cabinets Toronto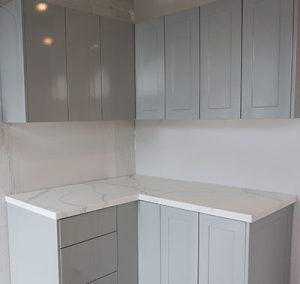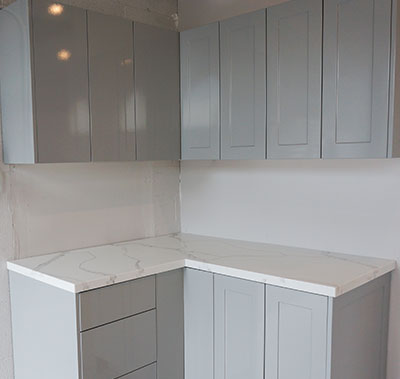 Are you tired of your kitchen looking like it came straight out of the nineties? Maybe it got updated more recently, but the cabinets haven't been standing up to the years of wear. Discount Kitchens has your back with our large variety of cabinets.
One of our more modern designs is our high gloss kitchen cabinets. Like all of our cabinets, these have doors wrapped in thermal foil. That means they don't fade or discolor, even after a long time.
High Gloss in Different Designs
Glossy cabinetry is sure to give your kitchen a sleek, modern appearance, regardless of the cabinet design. Even so, we do have many cabinet designs. Let's see how some of those match up with high gloss to make the perfect kitchen!
High gloss, black kitchen cabinets are very sleek and modern! They look great paired with modern, black or stainless steel appliances and will give your kitchen a sharper appearance. If you like things to look clean and shiny, you would love this color and style combo. Pairing this with quartz countertops and brightly colored decor, like flowers, would be a beautiful marriage between sleek and personal.
High gloss, shaker cabinets of any color will give your kitchen a modern, but toned down aesthetic. They're sleek, but comfortable, and can be paired with glass panels to show off those fancy dishes you bought last month.
High gloss, raised panel cabinets are bold and look great in any kitchen! The raised panel design looks very classy and the shine from the gloss will make your new cabinets stand out in the best way possible. Getting these in white would really open up your kitchen space and give it a bright, clean look.
How to Buy Yours Today
If you'd like to learn more about our products, come on down to our showroom and have a look at some of our displays. Get your questions answered face to face without the hassle of a phone call. While you're here, take a walk around and look at the options we have available.
After all, it never hurts to see something in person when you're investing so much into it. Your new cabinets will likely be in your house for many years.Therefore, it's important to know what you're putting your money into!
Many people have busy schedules. We get that! If you'd like to order some of Discount Kitchen's cabinets but don't have the time to stop by, contact us via phone or email. We would love to answer any questions you have about our products and assist you in finding the right product for your home.
CONTACT US
If you are looking for amazing design, beautiful workmanship and absolutely the best service then don't look any further. From the initial phone call, right up to the install everyone was helpful and so down to earth. I will use them for our next reno and I suggest them to everyone who is planning a reno.

Robyn Kotsopoulos


July 17, 2021